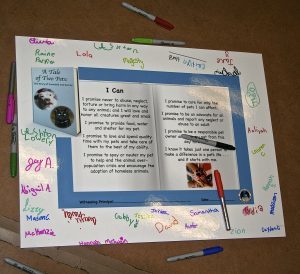 The Mission of the Moore County Citizens' Pet Responsibility Committee (MCPRC) is to provide and drive, with the support of the Moore County Commissioners, solutions to the pet overpopulation crisis in Moore County.
The MCPRC education program is presented primarily as an integral part of the Moore County Schools' Character Education Program which focuses on good judgment, integrity, kindness, perseverance, respect and responsibility and is linked to NC state standards. The backbone of our program is a strong volunteer base that presents a six session program to each 4th Grade class annually.
The MCPRC pilot program launched in 2008 with the goal of sharing the Pet Responsibility program with over 1,000 fourth grade students in Moore County each year. Today, the Pet Responsibility Education Program is an integral part of the curriculum and taught in 20 public and private schools annually.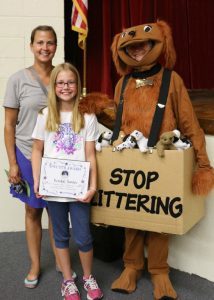 We are happy to offer our lesson plans to others who would like to begin this program in their area.
Click here for contact information.
Teachers, Helpers, Therapy Dog Teams and Photographers needed! Please contact us today to learn more about our program and sign up today! Click here for contact information.

To Volunteer at The Animal Center of Moore County (Moore County's Animal Shelter) please contact The Animal Center at 910-947-2858.