Moore County Therapy Dogs brochure:
PRC Moore County Therapy Dogs brochure 2022
Reading Tails: "Children Reading to Dogs"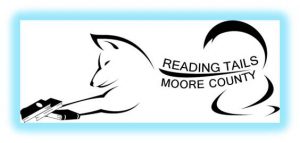 The mission of Moore County's "Reading Tails" program is to expand a child's interest in reading and thus lay the groundwork for a lifetime of education, ultimately leading to a higher quality of life. "Reading Tails" is a volunteer group organized to provide qualified handlers and their therapy dogs for visitation in a variety of facilities and settings. Reading times for children and therapy dogs are scheduled. Children and dogs bond together over a shared story. The child's confidence and reading skills grow in a relaxing environment.
Many of the therapy dog teams that participate in the Reading Tails program also participate in the PRC Education Program. The dogs are ambassadors in the classroom, demonstrating the joy of a well-trained dog and reflecting the love and care that they receive from their families.
Special visits with our PRC dogs (and cats!) and their owners:
Eligibility:
Therapy dogs and their owners must have a current certification with one of the groups below:
A Canine Good Citizenship Certificate is not required but is a great foundation for a therapy dog credential.
Please be sure to always stay current on the rules and regulations stipulated by your certification organization.
Training:
Training and/or information regarding the above certifications and AKC certifications is available from several trainers/schools in Moore and Lee Counties – see below:
Bon-Clyde

P.O. Box 2208
Sanford, NC 27331-2208

Contact Bonnie at bon-clyde@windstream.net

919-774-6794 or 919-774-8861

Sandhills Dog Training LLC

Abby Ganin-Toporek

910-673-0074

sandhillsdogtraining@gmail.com

K9 Foundation, LLC

3140 NC-5,

Aberdeen, NC 28347

Contact Lynn Bain at lynn.k9foundation@gmail.com

612-747-4090

Shadow Hill Kennel and Farm

1723 Belford Church Road,

Jackson Springs, NC 27281

Contact Jane Hammett at shelties@hughes.net

910-974-3647
If you have your certification:
Contact Linda Evans for more information on how to participate in the program.
Linda can be reached at 910-986-6528 or spencersbestfriend@gmail.com